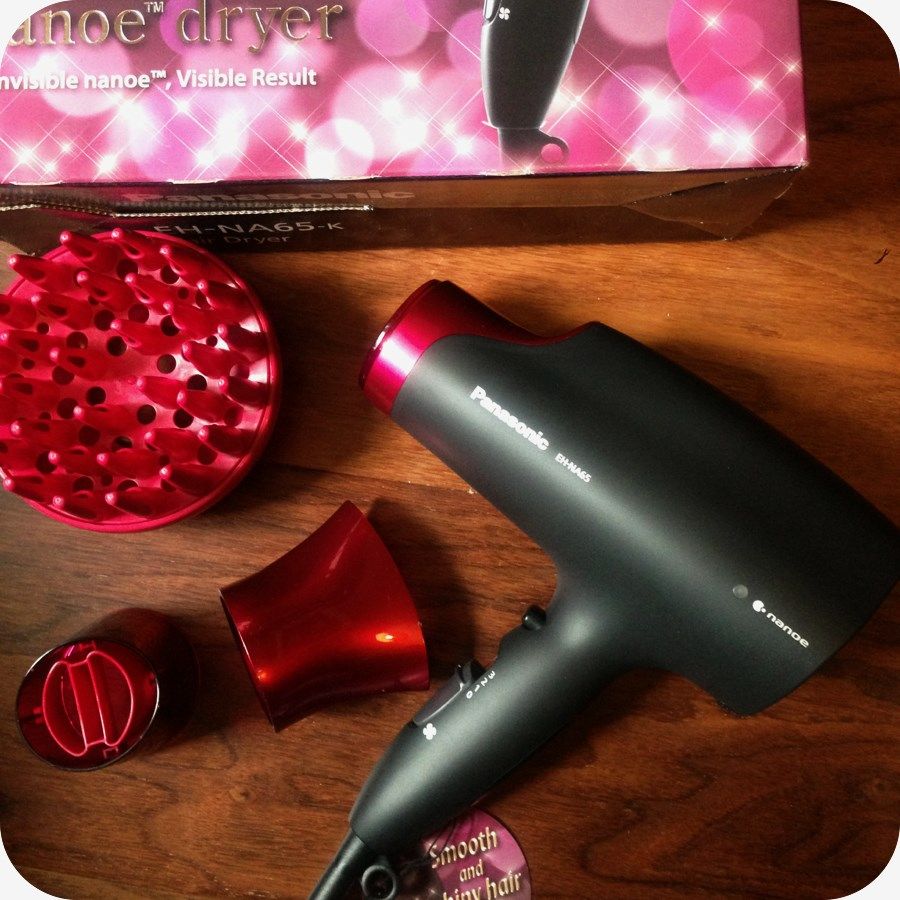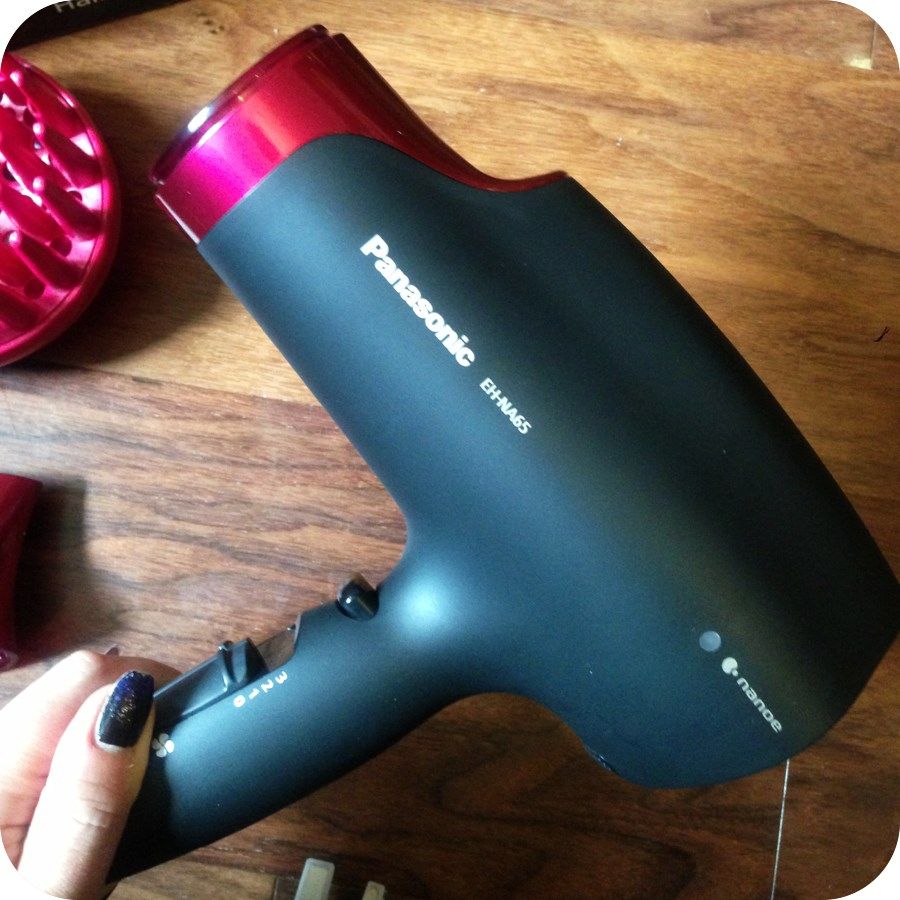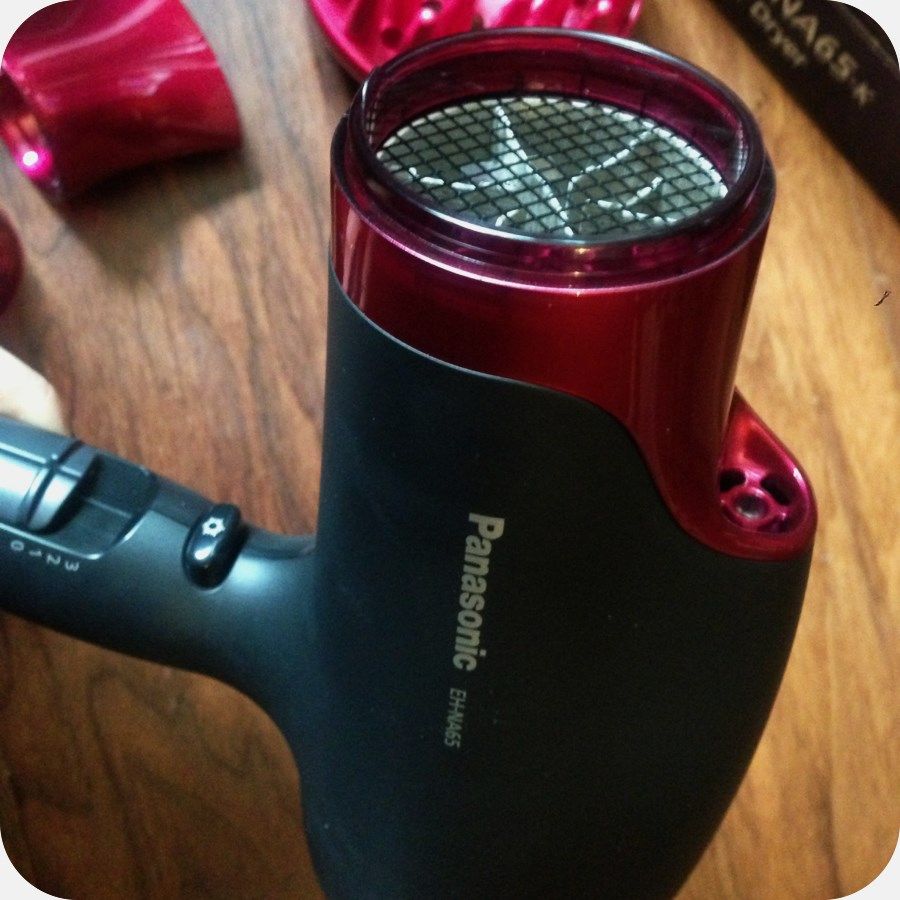 I'm pretty care-free (terrible) when it comes to looking after and styling my hair properly and certainly haven't invested in a decent hairdryer for myself........forever. The one I use at home is one I have had for maybe 5 years and it gets a use around once a week. My hair is very fine/flyaway so from towel-dried to dry if I'm air drying is about an hour. When I use a hairdryer it takes around 10-15mins.
I was lucky enough to be given this new Panasonic NA65 Nanoe hairdryer* to try out which I have been doing for a couple of weeks now, and it has made a huge difference to my hair and life!

The Panasonic Nanoe hairdryer is powerful (2000w) yet retains 1,000 times more moisture in the hair & scalp than the normal ionic hairdryer so really ideal for all hair types including damaged, dry & coloured hair. It also has a focus on keeping the scalp healthy which is absolutely vital for a headful of healthy strong hair. Panasonic have done really well to include the importance of this and I think A LOT of hairdryers will be following suit.
How it works / The Science bit
This hairdryer does it's thing by locking in moisture to the negatively-charged ions that it omits when it is switched on. Now when your hair is frizzy and dry, it will be drenched in positive ions...so negative ions are really key to sleek, shiny & healthy-looking hair...so any hairdryer that produces neg ions is a really GOOD THING. Keeping up? So by flushing the hair with these neg ions, it will hydrate the hair and scalp from the inside out. HEALTHY HAIRDRYING!
The hairdryer
It looks pretty high-tech and has a proper 'salon-professional' feel to it, even with a pro-standard 2.7m cord which is just ideal for drying your hair and running around your bedroom putting makeup on at the same time. There is three heat settings and three speed settings and the all-important cold-blast button.
It comes with three attachments: a typical condenser, a quick-dry nozzle and a diffuser.
Condenser
A condenser is a typical nozzle attachement for any hairdryer and is perfect for that sleek blowdry. I am useless at blowdrying so probably won't use this attachment much but it is the most commonly used for the majority of people.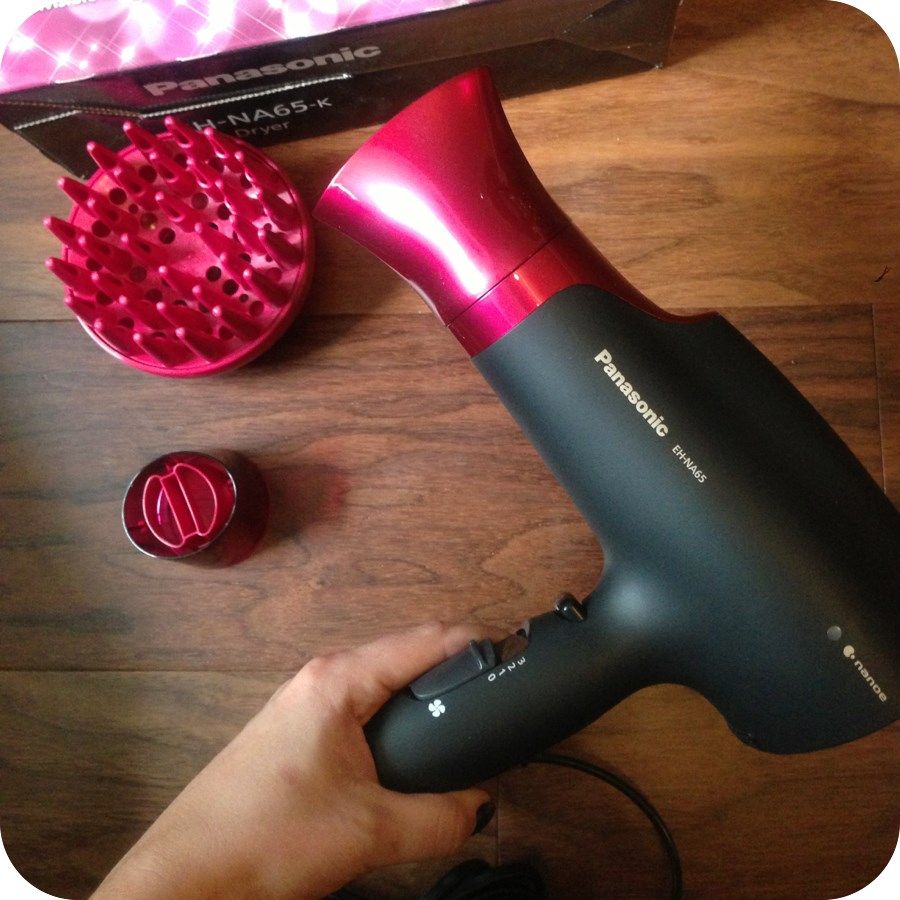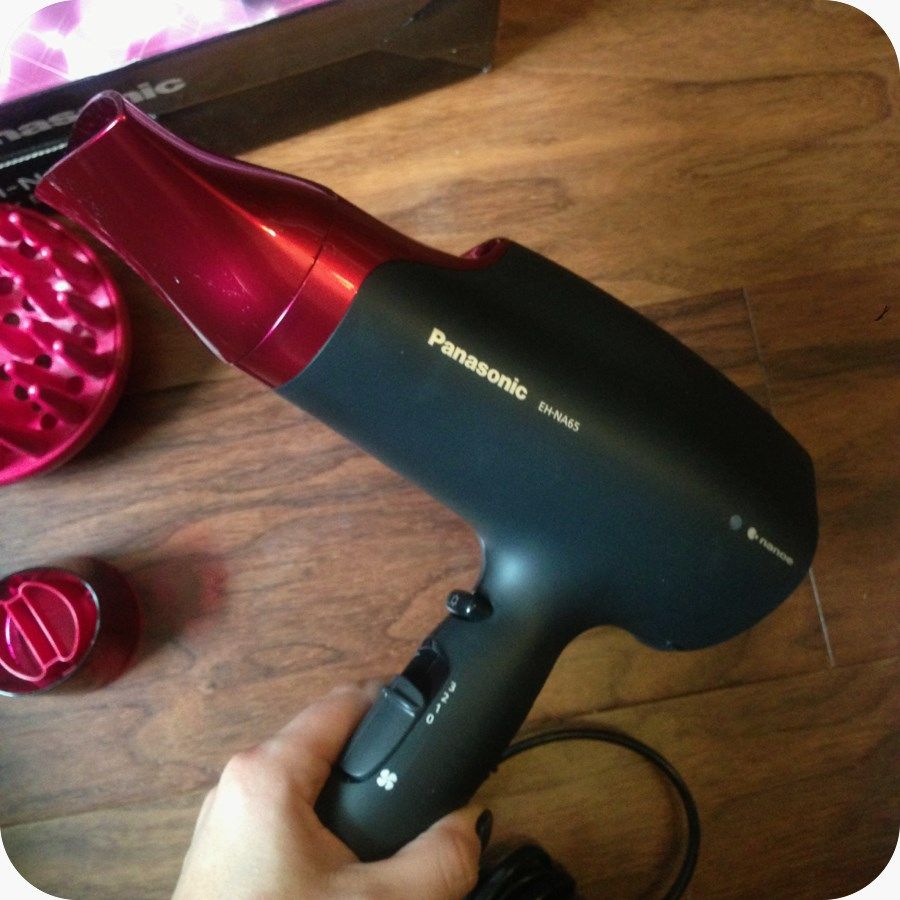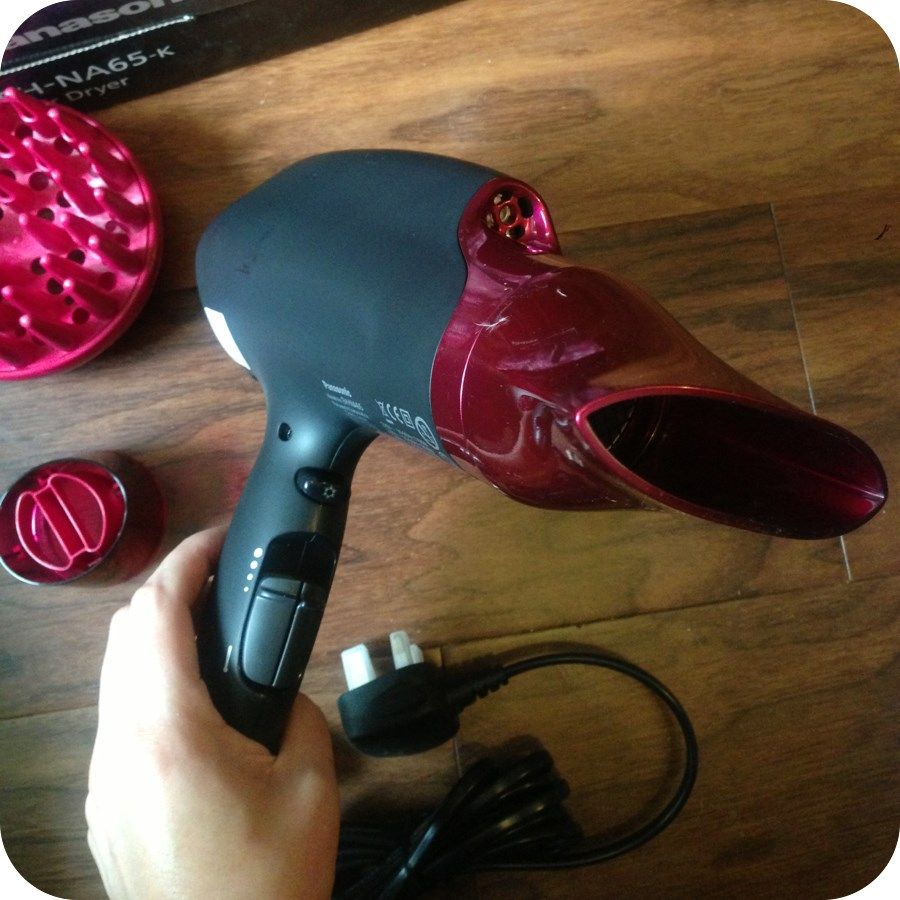 Quick-dry nozzle
This is genius and makes drying even QUICKER. It took my drying time from 15mins to just 5. This is really implressice. It works by combining soft and strong airflows to spread the hair evenly resulting in a more optimum spread of warm air = efficient and quick drying. This is my favourite attachement and I am keeping this on.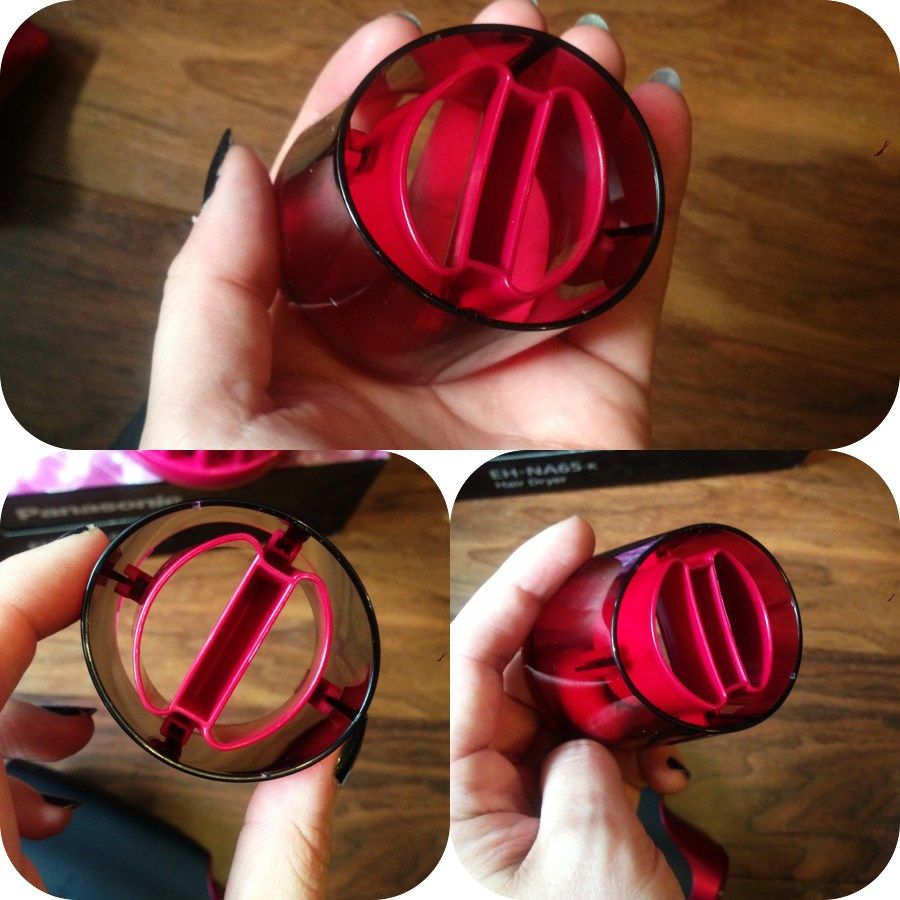 Diffuser
I always like having a diffuser attachment as back up. My hair has a natural curl, and on rare occasion I like to embrace this so a diffuser does wonders. A diffuser creates curl, body & texture and aims to blow air closer to the roots for extra volume.
Performance
The first thing I noticed was how much quieter is was in comparison to my old hairdryer, and it also just felt like it wasn't blasting as much air out, yet it dried a lot quicker. This straight away indicates that it is a healthier way to dry your hair. I only had to use it on the lowest switching between the lowest and medium setting and I use it on a medium heat. This seems perfect for my fine hair, I guess for thicker and more unruly hair/ sleek blowdrys, then you would use the higher settings. (Play around & see what works for you but always try and use the lowest possible that works efficiently)
It is quicker to dry my hair, not that that is a huge factor for me, but I know this is for many people. As I said, with a normal hairdryer my hair took around 15 mins to be fully dry, with the Nanoe, it is under 10 minutes with the air condenser attachement and just 5 MINUTES with the quick-dry nozzle. A good chunk off my drying time and I would say this would be relative to anyone's drying time.
My hair feels really soft and healthy after using it. Now with fine hair this can mean even more flyaway and flat, but it somehow also retains more volume than usual (I think this is due to the amount of moisture that is kept within the hair shaft).
I have taken some photos of when I am using a bog-standard hairdryer (this is the one from my gym, not sure of the brand, but it is very basic) and then the Panasonic nanoe. Both pictures were taken after just rough-drying my hair:
The results are really impressive and after a few weeks use, I am noticing my hair is feeling and looking shinier and healthier. Now would I spend £100 on a hairdryer? I'm not so sure...I use my hairdryer like once a week, BUT for those girls who blow-dry frequently, use a hairdryer daily or even thrice a week, then I would absolutely say that this is a good investment. Technology has advanced very quickly in hairdryers over the last few years and £100 hairdryers aren't really uncommon. People, including myself, are very quick to drop money on skincare and going to the hairdresser, but think about the long-term health of your hair & scalp , it will thank you!